This page is marked for deletion.

If you believe this page to be salvageable, please explain why on the talk page. You are also welcome to make improvements to the article yourself.

Admins are reminded to check what links here and the page history before deleting the page.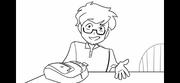 Nico Flores is a character that has been introduced in the Sanders Asides Video: Flirting with Social Anxiety. He is played by Manuel Marichal.
Characteristics
Nico Flores is an introvert (nicknamed Pintrovert), with a passion for creative writing as he is a poet himself and has attempted to write a song. He carried a laptop and a rucksack bag full of pins: including a Nightmare Before Christmas sticker, a Paramore sticker, and a Simba Disney sticker on his laptop and a pride pin on his bag. Nico wears glasses and appears to have a short beard. Currently he has only been seen in animatic form.
Relationships
Nico towards the end of Flirting with Anxiety started to talk good naturedly and openly with C! Thomas and so whilst we can say he is forming relationship with Thomas, it is very new and not enough is known about the relationship.
Nicknames
Pintrovert- Roman Sanders
Community content is available under
CC-BY-SA
unless otherwise noted.